Hello Everyone, in this post we are going to see the process for filing Form 10E online.
What is Form 10E of Income Tax?
Form 10E of Income Tax is filed to claim relief in the payment of tax by a taxpayer. If a portion of the salary or family pension is received in arrears or in advance, they can get tax relief under section 89(1) as per Rule 21A if they had filed Form 10E.
The individuals who experience a salary revision like government servant or an employee in a company, co-operative society, local authority, university, institution, association or body can enjoy this tax relaxation.
Form 10E Online Filing Process
Now let us see the steps to file a Form 10E:
Step-1: First go to Income Tax Department Portal (official website) and click on Portal Login.

Step-2: When a login window opens, you can enter valid login details like User Id, Password and Enter Captcha. Then click on login. If you forgot your login details then click on Forgot Password.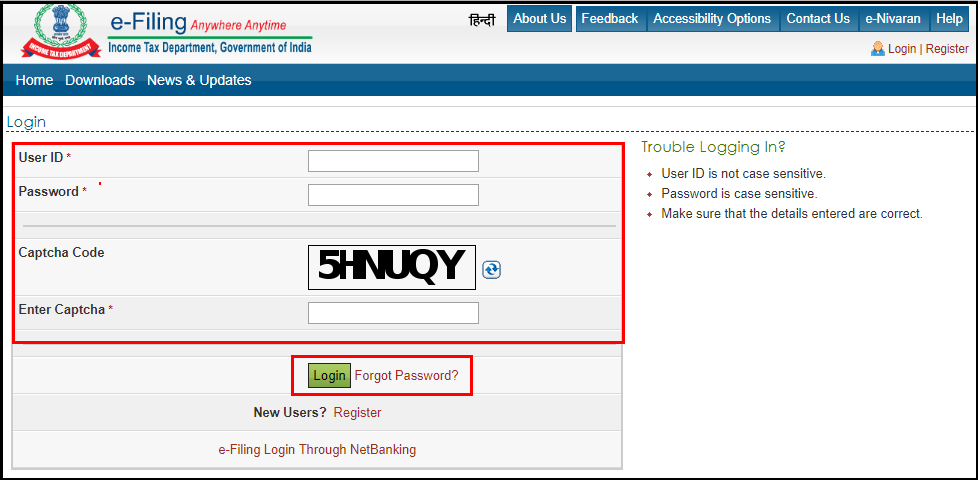 Step-3: Once you are logged into the portal, click on the e-File and then select Income Tax Forms from the drop-down.

Step-4: Next the PAN of the assessee will be auto fetched. In the Form Name, select the option FORM NO. 10E – Form for relief u/s 89 as shown below.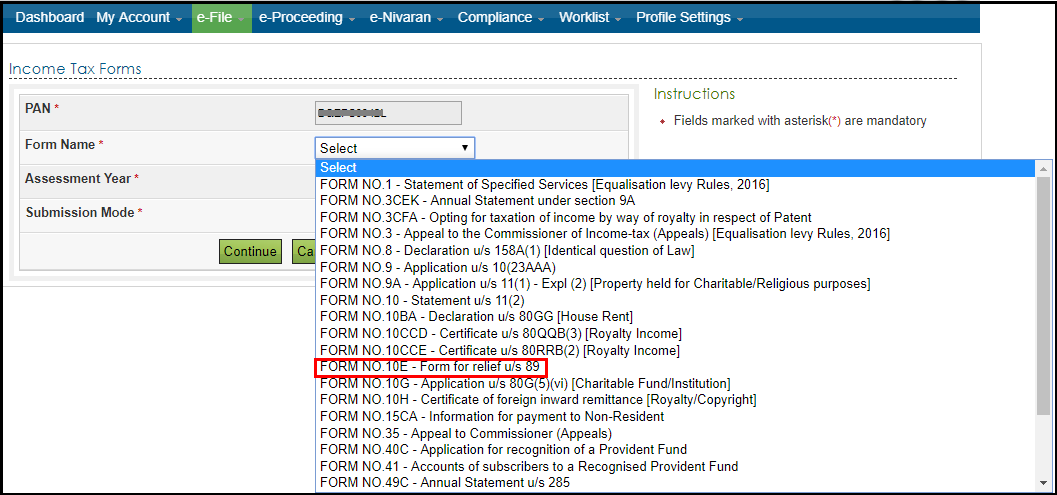 Step-5: Then select the Assessment Year & Submission Mode type you need. Next click on Continue.

Step-6: Then you can see the FORM NO.10E entry window with general instruction.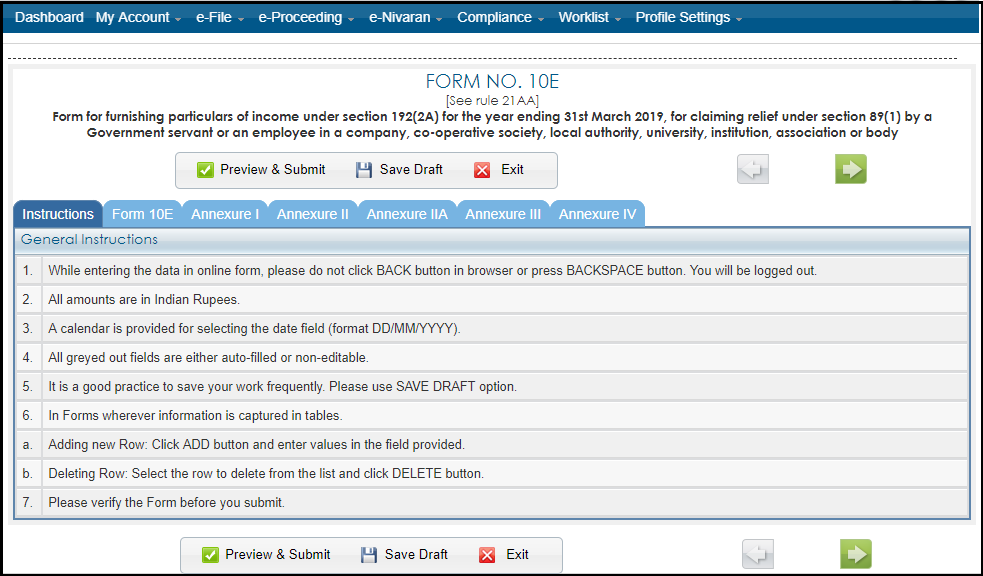 Step-7: Next click on the option Form 10E. The assessee details will be auto fetched from the assessee profile. Then select the Residential status and continue the process.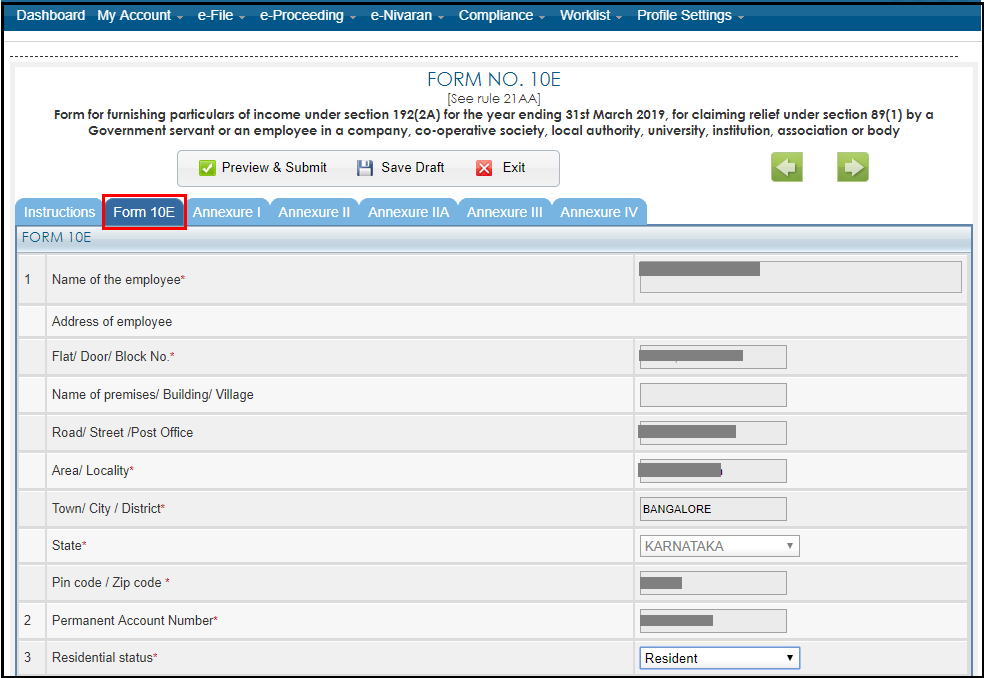 Step-8: In the same window, you need to select the Annexure applicable for you from the drop-down menu.
If you have more than one, click on Add to add it to your Form 10E or if you want to remove it, click Delete.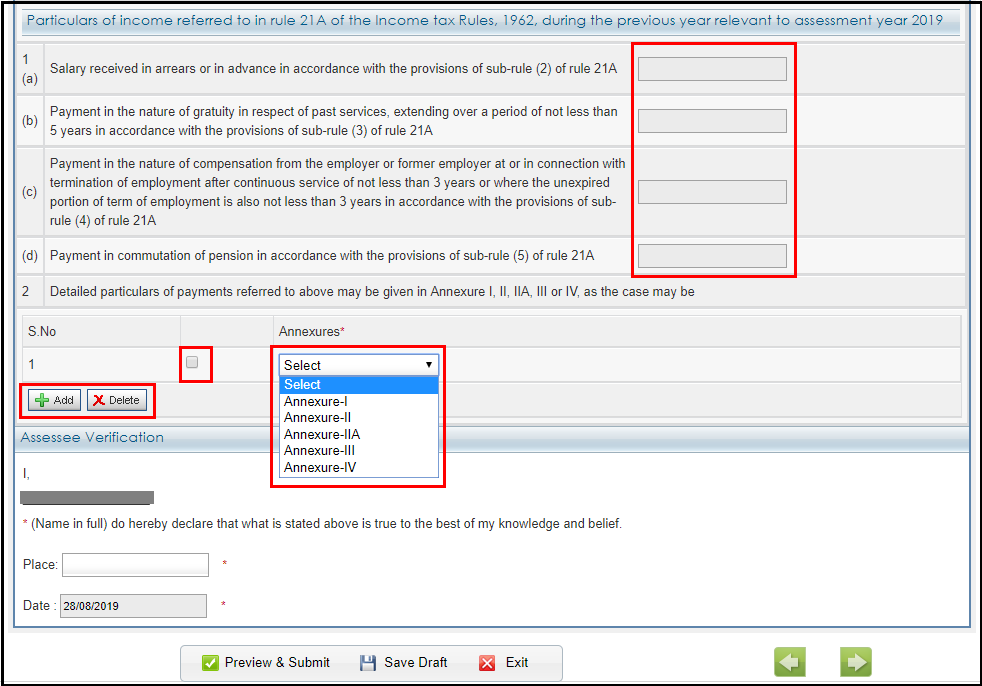 Step-9: Based on the annexure you have selected in the Form 10E, you need to go to that tab and fill in the details.
In Annexure I, add the total amount summary and in the marked box below, break down your income details based on year. Then after filling the details click on Save Draft.
Note: You can only fill the details in annexure if you have added them in your Form 10E and click on Save Draft after completing each step. So that data you have entered will not be lost in the process.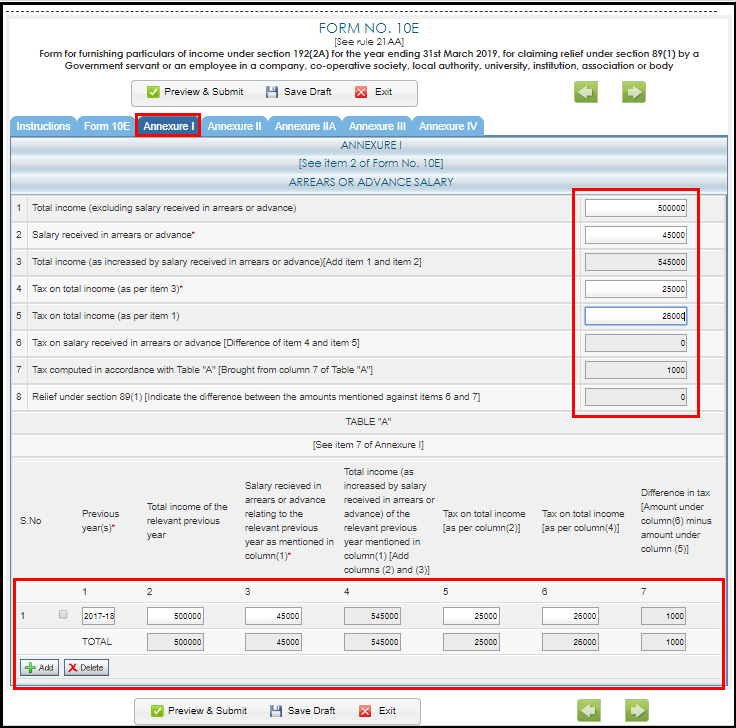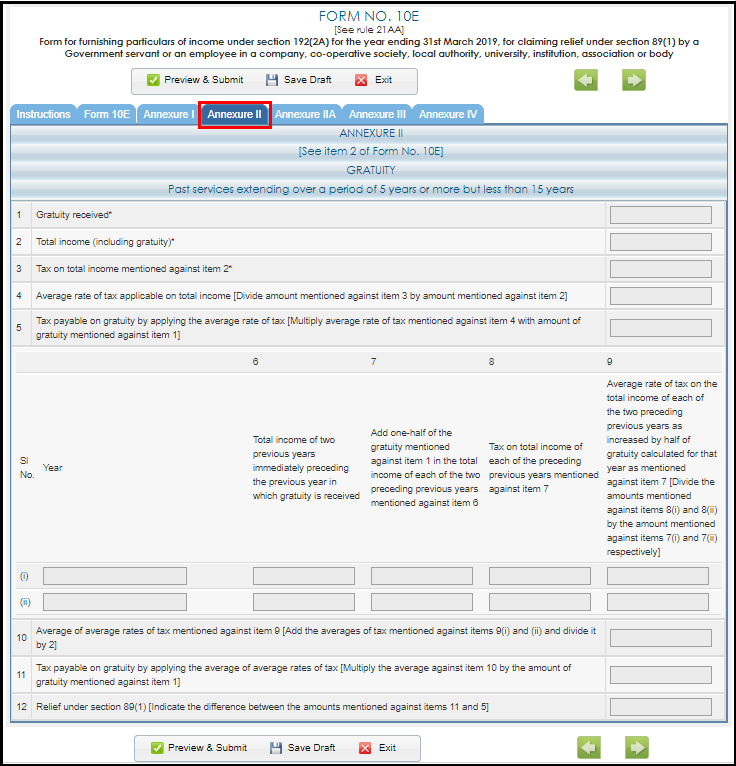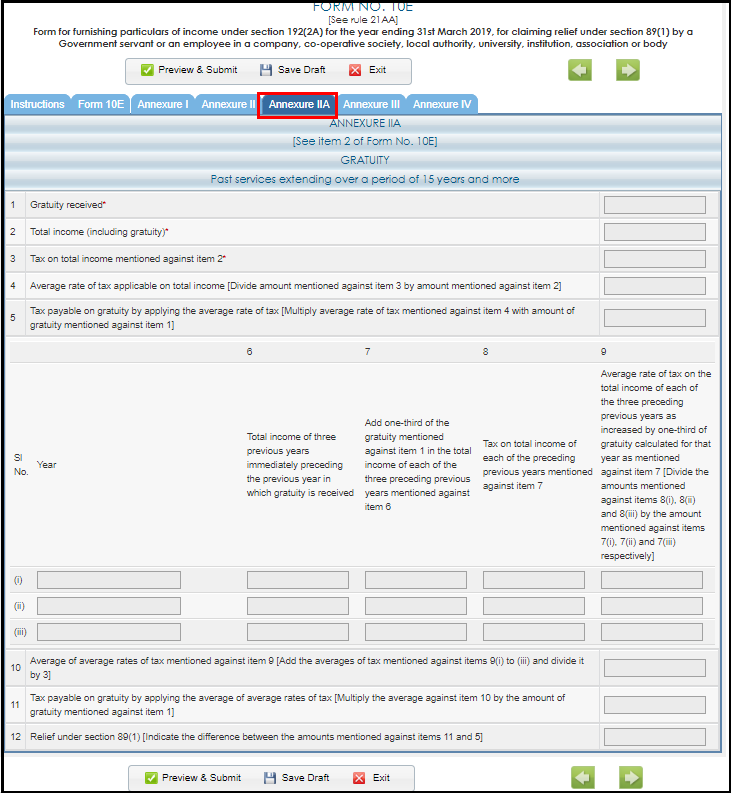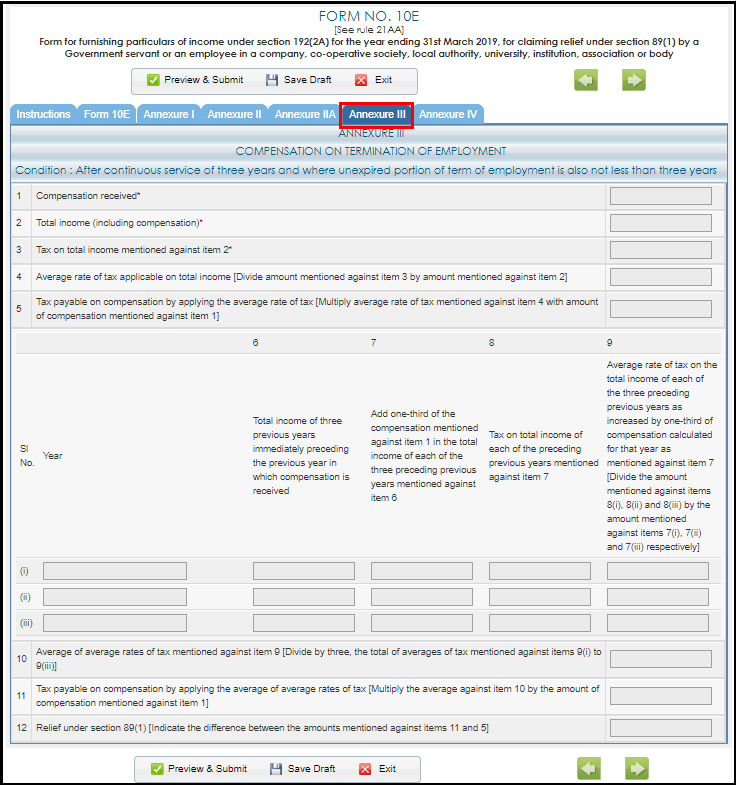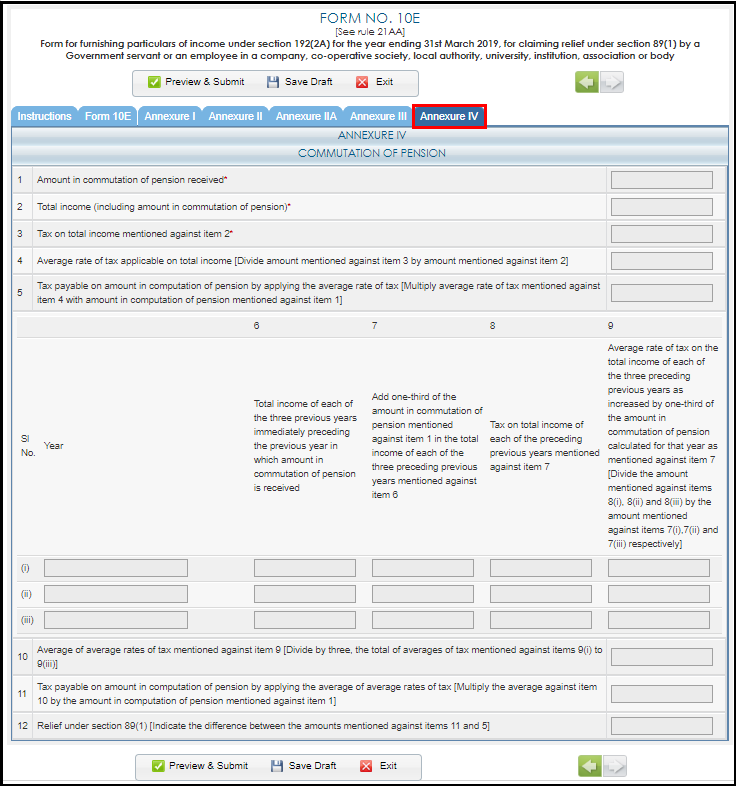 Step-10: Then it shows the salary received in arrears or in advance in accordance with provisions of rule 21A. Next, you can click on Preview and Submit after filing and reviewing the Assessee Verification details.
Summary details of annexure you have filled earlier will be auto-filled in form 10E.
Then a pop window will ask for your permission for the final submission of Form 10E. Then click on Preview and Submit.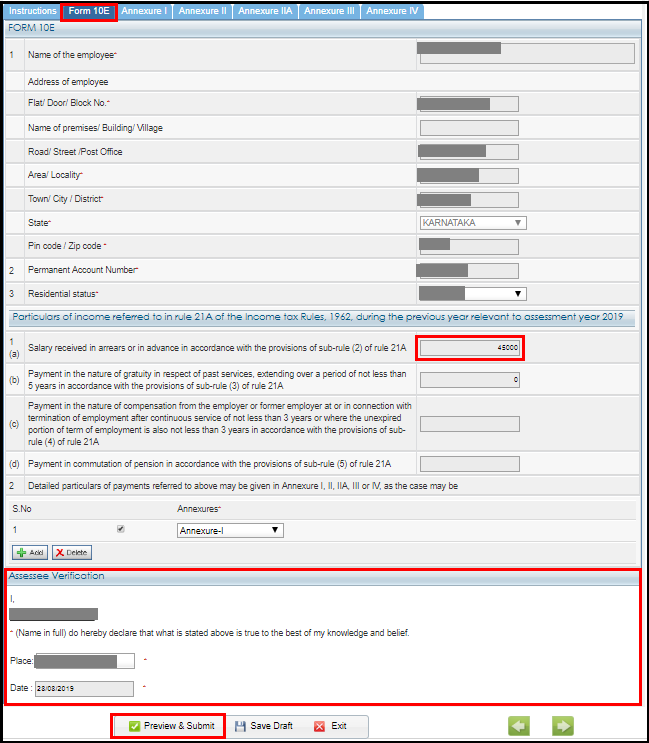 We have come to an end of this post on Form 10E online filing. Let us know about your views and opinions in the comment section below.